Fred Bortz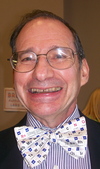 Photo by Vivian Vande Velde
After a 25-year career as a physicist, Fred Bortz turned to full-time writing in 1996 after his third book for young readers, Catastrophe! Great Engineering Failure—and Success (Scientific American Books for Young Readers, 1995), was designated a Selector's Choice on the National Science Teacher's Association's list of Outstanding Trade Books for Children. His books for Lerner imprints include: Techno-Matter: The Materials Behind the Marvels (Twenty-First Century Books, 2001, winner of the 2002 American Institute of Physics Science Writing Award for works intended for young readers and selected for several best books lists); Collision Course! Cosmic Impacts and Life on Earth (Millbrook Press, 2001, a School Library Journal Top Ten Science and Technology book); Astrobiology (Cool Science series, 2008); Seven Wonders of Exploration Technology (Twenty-First Century Books, 2010); and Seven Wonders of Space Technology (Twenty-First Century Books, 2011).
Interview
What was your favorite book when you were a child?

The World Book Encyclopedia (no kidding!)

What's your favorite line from a book?

"And it was still hot!" The perfect ending for Where the Wild Things Are.

Who are your top three favorite authors or illustrators?

Peter Ward (Astrobiologist and adult nonfiction author); David A. Hardy (Space Art); Seymour Simon (children's science)

Why did you want to become an author or illustrator?

Writing gives me a chance to be creative and to share exciting discoveries with children and young adults, who always challenge me and ask questions.

Do you have any advice for future authors or illustrators?

Find a few questions that you can enjoy following for a long time, then invite your readers to follow them with you. This is just as important in fiction as it is in nonfiction.