Katherine Krohn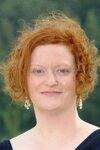 Katherine Krohn is the author of many nonfiction books for young readers. She is also a journalist and a fiction writer.
Interview
What was your favorite book when you were a child?

The Boxcar Children (the original). I also loved A Tree Grows in Brooklyn, Anne of Green Gables (the whole series), Pippi Longstocking (the whole series), Little Women and its sequels, and Little House on the Prairie (the whole series).

What's your favorite line from a book?

"It is still best to be honest and truthful; to make the most of what we have; to be happy with simple pleasures and to be cheerful and have courage when things go wrong." —Laura Ingalls Wilder


Who are your top three favorite authors or illustrators?

There really are too many talented people for me to pick a top three. But here are just a few, off the top of my head: Betty Smith, David Sedaris, Lynda Barry (writer/illustrator). Also, I think Stephenie Meyer is a gifted storyteller.

Why did you want to become an author or illustrator?

I've been a writer since grade school. I used to write stories and make little books when I was a kid. I even bound some of the storybooks myself. And I've always loved to read. Books can be thrilling in a way that movies and TV cannot. It's something I can't quite put my finger on, the thing that makes books so "alive." But it's there. You experience this intangible, wonderful, awake feeling when you find a book that you can't put down.

Writing has always seemed very natural to me, like it's a part of me. I didn't become a writer. I was a writer. Being an author—getting published—is certainly a nice next step, and I feel fortunate to have had that opportunity. Having a nonfiction book published is a way of sharing a good story, or, of telling a life story—while hopefully being educational and entertaining in the process.

Do you have any advice for future authors or illustrators?

I do think it's important to write regularly. Anything. Just have fun with it. I think journals are great. (They are fun to read back on when you are older, too.) Try to just write in your journal without editing. Don't try to sound cool. Oh, and here's a tip I learned from author Lynda Barry—don't read back on what you've written right away. Keep that inner critic at bay, because your inner critic is just a pain in the neck. I am also a fan of the ancient art of letter writing. I believe that writing a letter to a good friend can help draw out your authentic voice as an author.

I became a better writer with time and practice and life experience. Sometimes I got discouraged when my writing was bad or off or not flowing, but I kept going. So that's my advice to anyone who likes to write. When you feel discouraged, just keep going. You'll come to a better place eventually. And that goes for life in general—not just for writing a story, report, or essay.