Anitra Butler-Ngugi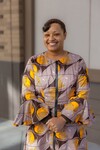 Anitra Butler-Ngugi is an experienced author, Literacy and Language Technician, and Instructional Designer. Anitra is also the Host of The Word Conscious Classroom podcast. She lives and works in Maryland.
Interview
What was your favorite book when you were a child?

Ramona Quimby, Age 8 by Beverly Cleary

What's your favorite line from a book?

"There is hard work in becoming more."—Stacy Abrams

Who are your top three favorite authors or illustrators?

Louis Sachar, John Reynolds Gardiner, Seymour Simon

Why did you want to become an author or illustrator?

Writing is one of my favorite things to do. As I write, I enter a zone where the characters come to life and tell me what to say. Writing allows me to meet different people and to solve many problems.

Do you have any advice for future authors or illustrators?

When you are ready to write your story, don't worry with words. Allow your ideas to flow and the words will come so that the story can tell itself.