Tracy Sue Walker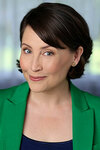 Tracy Sue Walker is an author of children's fiction and nonfiction including The Truth about Dragons. She earned her undergraduate degree from Agnes Scott College in anthropology. Tracy holds a masters' degrees in education as well as library and information science, but has also studied performance at the American Academy of Dramatic Arts in New York and writing at the Creative Circus in Atlanta. She is currently based in northern Georgia.

Interview
What was your favorite book when you were a child?

The Hobbit by J. R. R. Tolkien

What's your favorite line from a book?

"Stories are light. Light is precious in a world so dark. Begin at the beginning… Make some light." ― Kate DiCamillo, The Tale of Despereaux

Who are your top three favorite authors or illustrators?

Kate DiCamillo, J. R. R. Tolkien, Adam Rex

Why did you want to become an author or illustrator?

Stories and books have played such an important role in my life, and I wanted to share that with others.

Do you have any advice for future authors or illustrators?

Work hard, keep learning your craft, and don't give up—persistence is key.