Trish Cook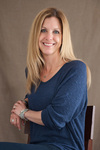 Trish Cook is the author of four young adult novels, including Notes from the Blender and A Really Awesome Mess, and a graduate of the University of Chicago's Graham School program in Creative Nonfiction. Her essays have been seen most recently in the Manifest-Station, Graze Magazine, and Spittoon. Trish is currently in the process of putting the final touches on her memoir/essay collection. In her spare time, she rows with a masters crew, most recently competing in Masters Nationals and the Head of the Charles Regatta. Trish dreams of being on The Amazing Race, but the closest she's ever come was being chosen as a finalist for casting on I Survived a Japanese Game Show (and unfortunately did not survive that last casting cut). You can visit her at www.trishcook.com and www.instagram.com/instafromthe80s.
Interview
What was your favorite book when you were a child?

Are You There God? It's Me, Margaret by Judy Blume

What's your favorite line from a book?

"Bird by bird, buddy. Just take it bird by bird." Anne Lamott, Bird by Bird

Who are your top three favorite authors or illustrators?

Cheryl Strayed, Anne Lamott, Judy Blume

Why did you want to become an author or illustrator?

I was a voracious reader and radical dreamer.

Do you have any advice for future authors or illustrators?

Passion, practice, patience, persistence—keep at it!