NoNieqa Ramos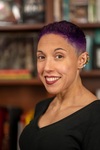 Raised in the Boogie Down Bronx, NoNieqa Ramos is an educator and literary activist. She wrote the young adult novel The Disturbed Girl's Dictionary and the picture book Hair Story. She believes Halloween is a lifestyle, not a holiday. If you're in Virginia, you might catch NoNieqa getting motorcycle lessons from her soulmate Michael or going indie bookstore hopping with her preciosos Jandi and Langston. Connect with her works on www.nonieqaramos.com or on the Latinx collective www.lasmusasbooks.com.

Interview
What was your favorite book when you were a child?

"Was?" Only now, as an adult, I can sometimes find fiction that represents me. I am enamored with To Go Singing Through the World by Deborah Ray Kogan and The Book Itch by Vaunda Micheaux Nelson.

What's your favorite line from a book?

Two of my fave lines:

"And they danced by the light of the moon, the moon. They danced by the light of the moon."—The Owl and the Pussycat

"And I, infinitesimal being,
drunk with the great starry
void,
likeness, image of
mystery,
I felt myself a pure part
of the abyss,
I wheeled with the stars,
my heart broke loose on the wind."—Pablo Neruda

Who are your top three favorite authors or illustrators?

Gods and goddesses of the pantheon include Kelly Link, Meg Medina, Margarita Engle, Zoraida Córdova, Daniel José Older, Amy Zhang, and David Bowles.

Why did you want to become an author or illustrator?

I have never not been a writer. I bleed ink.

Do you have any advice for future authors or illustrators?

NEVER give up. NEVER surrender.