Elana K. Arnold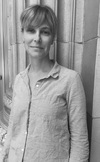 Martha Brockenbrough
Elana K. Arnold is the author of several books for young readers. She lives in Huntington Beach, California, with her husband, two children, and a menagerie of animals.

Interview
What was your favorite book when you were a child?

Anne of Green Gables by Lucy Maud Montgomery

What's your favorite line from a book?

"Many years later, as he faced the firing squad, Colonel Aureliano Buendía was to remember that distant afternoon when his father took him to discover ice." Gabriel Garcia Marquez, One Hundred Years of Solitude

Who are your top three favorite authors or illustrators?

Phillip Pullman, Cheryl Strayed, and John Irving

Why did you want to become an author or illustrator?

Since childhood, it's been clear to me that one life is not enough. Writing allows me to explore alternate realities, personalities, and opportunities.

Do you have any advice for future authors or illustrators?

People—teachers, parents, friends—may tell you that your story isn't important or worth telling. They are wrong. Tell your story, and be gentle with yourself. There is time.