E.K. Johnston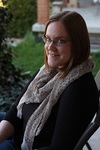 Sarah Oughton
The cool things about Emily Kate Johnston are that she is a forensic archaeologist, she has lived on four continents, she decorates cupcakes in her spare time, she adores the Oxford comma, and she loves to make up stories.

The less cool things about Kate are that she's from a small town in southwestern Ontario, she spends a lot of time crying over books in random coffee shops, and she can't play as many musical instruments as she wishes she could. The Story of Owen is Kate's first novel. Visit her online at ekjohnston.ca.

Interview
What was your favorite book when you were a child?

The Hobbit

What's your favorite line from a book?

"Even on your world, my son, that is not what stars are, only what they are made of." –C.S. Lewis, The Voyage of the Dawn Treader

Who are your top three favorite authors or illustrators?

J.R.R. Tolkien, Tamora Pierce and Madeleine L'Engle

Why did you want to become an author or illustrator?

To be honest, I kind of tripped one November, and wrote 85,000 words about Jenga. Well. Kind of. Anyway, it was all downhill from there.

Do you have any advice for future authors or illustrators?

Find something that works and do it. If it stops working, find something else. Also, I recommend caffeine, but that's a largely personal choice.