Sashi Kaufman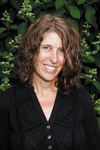 Sashi Kaufman is a middle-school teacher and an author. She lives in Portland, Maine, with her family. Visit her online at www.sashikaufman.com.
Interview
What was your favorite book when you were a child?

The Boxcar Children by Gertrude Chandler Warner

All of a Kind Family by Sydney Taylor

Alanna Series by Tamora Pierce

What's your favorite line from a book?

"Of course it is happening inside your head, Harry, but why on earth should that mean that it is not real?"
―J. K. Rowling, Harry Potter and the Deathly Hallows

Who are your top three favorite authors or illustrators?

This is a brutal question so I'm going to have to answer just for YA:
A. S. King
Maggie Stiefvater
Jandy Nelson

Why did you want to become an author or illustrator?

I love to tell stories. I've been an avid reader since forever and I love the powerful role stories have played in my life. I wanted to be able to do that for others.

Do you have any advice for future authors or illustrators?

Read what you love and write what you love.