Gavin Bishop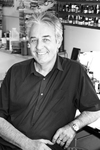 Shar Devine
Gavin Bishop ONZM, Tainui, Ngāti Awa, is a leading Māori illustrator living in Christchurch, New Zealand. He has published over 70 books internationally and been translated into 12 languages. His awards include the Sir Kingi Ihaka award for lifetime contribution to Māori art and culture.

Interview
What was your favorite book when you were a child?

The Hobbit by J. R. R. Tolkien

What's your favorite line from a book?

"Not now, Bernard!"

Who are your top three favorite authors or illustrators?

Margaret Mahy, Joy Cowley, Roald Dahl

Why did you want to become an author or illustrator?

I like telling stories.

Do you have any advice for future authors or illustrators?

Read lots of books.