Gavin Bishop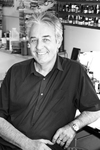 Shar Devine
Gavin Bishop is a leading New Zealand illustrator. He has received multiple awards and exhibited internationally.
Interview
What was your favorite book when you were a child?

The Hobbit by J. R. R. Tolkien

What's your favorite line from a book?

"Not now, Bernard!"

Who are your top three favorite authors or illustrators?

Margaret Mahy, Joy Cowley, Roald Dahl

Why did you want to become an author or illustrator?

I like telling stories.

Do you have any advice for future authors or illustrators?

Read lots of books.