Steve Brezenoff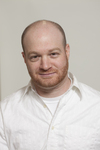 Photo by Todd Strand
Steve Brezenoff has written several chapter books for young readers, and The Absolute Value of -1 is his first novel for teens. Though Steve grew up in a suburb on Long Island, he now lives with his wife, their kids, and their terrier, in St. Paul, Minnesota.
Interview
What was your favorite book when you were a child?

Depends on what year! It went from Whose Mouse Are You? to The Invasion of the Blue Lights to the Chronicles of Prydain to A Wrinkle in Time to The Outsiders to The Catcher in the Rye.

Who are your top three favorite authors or illustrators?

Kelly Link, J. D. Salinger, and John Gardner.

Why did you want to become an author or illustrator?

It's hard to say. I've always wanted to be a writer, for as long as I can remember. Other aspirations—like rock star and chef and civil rights attorney—have come and gone, but writer just always was.

Do you have any advice for future authors or illustrators?

Read a lot and write a lot, and don't be afraid to ask other people to read what you've written and to give honest feedback.