Q. L. Pearce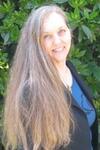 Q. L. Pearce is the author of more than 100 nonfiction books for children on the subjects of science, literature, history, and values. Her published fiction includes more than a dozen collections of scary stories and mysteries. Q is the Assistant Regional Advisor in the Orange County region of the Society of Children's Book Writers and Illustrators in Southern California.

Interview
What was your favorite book when you were a child?

The book that had the greatest influence on me was Alice's Adventures in Wonderland by Lewis Carroll. I loved the fantastic elements.

What's your favorite line from a book?

"I assure you that you can pick up more information when you are listening than when you are talking." From The Trumpet of the Swan by E. B. White

Who are your top three favorite authors or illustrators?

My favorite authors of all time are George Orwell, John Steinbeck, and Clifford Simac. My modern favorites are Holly Black, Kathi Appelt, and Scott Westerfield.

Why did you want to become an author or illustrator?

I have wanted to write since I was a child. When I realized that there were people behind the books that I cherished I knew that I wanted to be part of the world of literature and to write children's books in particular.

Do you have any advice for future authors or illustrators?

Take advantage of every opportunity to study your craft and improve your skills. Never stop learning and growing.