Elizabeth Koehler-Pentacoff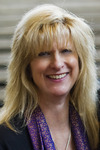 Photo by Mahesh R. Gunnarhar
Born in Wisconsin, Liz moved to California to attend college. She majored in children's theater and elementary education. After graduation she taught elementary and middle school and directed children's plays through a children's theater group. Liz taught teachers through CSU Hayward's East Bay Extension for ten years, as well as CUSC Extension. She presents assemblies and classroom workshops to all ages. Liz is chair of the California Writers Club Young Writers Contest, Mt. Diablo Branch, a county-wide contest and workshop program for middle school students.
Interview
What was your favorite book when you were a child?

Charlotte's Web by E. B. White

What's your favorite line from a book?

"In one of the stars I shall be living In one of them I shall be laughing And so it will be as if all the stars were laughing when you look at the sky at night."

—The Little Prince by Antoine de Saint-Exupery

Who are your top three favorite authors or illustrators?

E. B. White, Deborah Wiles, and Beverly Cleary

Why did you want to become an author or illustrator?

Because writing makes me feel content, happy, and "home." When I don't write I feel like something is not quite right. But once I pick up a pen or start typing, all is well again!

Do you have any advice for future authors or illustrators?

Time is your friend. After you write a story, set it aside for a little while. Then rewrite it until it sparkles. Don't be afraid of revision. Pretty soon rewriting becomes an addiction and you won't want to stop!