Cynthia Argentine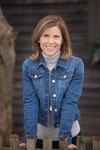 Christie Turnbull
Cynthia Argentine is a children's book author and journalist living in Indiana. Before writing for children she earned a master's degree in environmental law from Vermont Law School, and worked as an environmental and regulatory affairs consultant.

Interview
What was your favorite book when you were a child?

Naming just one is hard! Here are two I enjoyed at different ages: Amelia Bedelia by Peggy Parish, and From the Mixed-up Files of Mrs. Basil E. Frankweiler by E. L. Konigsburg.

What's your favorite line from a book?

Here's a line I love from Annie Dillard's Pilgrim at Tinker Creek: "If the landscape reveals one certainty, it is that the extravagant gesture is the very stuff of creation."

Who are your top three favorite authors or illustrators?

Jane Austen, John McPhee, Candace Fleming. Those are three whose books I perennially enjoy, and I keep adding more favorites!

Why did you want to become an author or illustrator?

As a child, I loved reading. I remember turning the last page of a novel by L'Engle or Konigsburg and wishing I could call the author to chat. I didn't want the story to end! I also loved writing, whether it was an essay, a silly limerick, or a research paper on a cool topic like space. Being an author lets me keep reading, writing, learning, imagining, and sharing my ideas and experiences with others.

Do you have any advice for future authors or illustrators?

Writing takes time, thought, and imagination. The more you practice, the more confident and creative you will be. Keep at it. It's worth it!