Kate Slater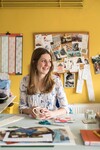 Kate Slater is an artist and illustrator working in mixed media collage. Alongside work for publishing, editorial and advertising clients, Kate designs her own range of gift and homeware and has also created several large scale installations and window displays. Kate studied illustration at Kingston University (2005-2008). She grew up on a beautiful farm in deepest Staffordshire and, after living in London for a few years, returned to her green and muddy roots and now works from her studio at home in Staffordshire, in a room piled high with paper, watched over by her Labrador, Gladys.

Interview
What was your favorite book when you were a child?

Where's Julius? by John Burningham

What's your favorite line from a book?

"Are the shades of Pemberley to be thus polluted?"― Jane Austen, Pride and Prejudice

Who are your top three favorite authors or illustrators?

Jane Austen, Mary Oliver, and John Burningham

Why did you want to become an author or illustrator?

I've wanted to write and illustrate children's books since I was seven, when my teacher told me that a nine year old girl was the youngest published author. I decided then that I had two years to get a book deal and break the record! It took much longer than that, I was 24 when my first picture book was published, but that's definitely the moment when I first believed it was possible.

Do you have any advice for future authors or illustrators?

Believe in yourself and keep drawing/writing/doing what you love!