Marcia Argueta Mickelson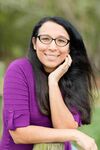 Rachel Meldrum
Marcia Argueta Mickelson was born in Guatemala and immigrated to the United States as an infant. She attended high school in New Jersey and then graduated from Brigham Young University with a BA in American Studies. She is the author of five novels including Star Shining Brightly, The Huaca, and Where I Belong, and she is a winner of the Pura Belpré Young Adult Author Honor. She lives in Texas with her husband and three sons.

Interview
What was your favorite book when you were a child?

Beverly Cleary's Ramona Quimby series

What's your favorite line from a book?

"Perhaps, after all, romance did not come into one's life with pomp and blare. . . perhaps it crept to one's side like an old friend through quiet ways." ― Anne Of Avonlea, L.M. Montgomery

Who are your top three favorite authors or illustrators?

Jane Austen, Sophie Gonzales, and L.M. Montgomery

Why did you want to become an author or illustrator?

I always have a story in my head, and I wanted to share those stories.

Do you have any advice for future authors or illustrators?

Don't give up!