Emily Barth Isler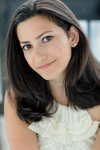 Shirin Tinati
Emily Barth Isler is an author of essays and children's books, including the middle grade novel AfterMath and the forthcoming picture book Always Enough Love. Emily writes regularly about sustainability, organic/eco-friendly skincare, and healthy beauty products for magazines and blogs. Her next book, The Color of Sound, features a character who, like Emily, has synesthesia. She has a BA in Film Studies from Wesleyan University and lives in Los Angeles with her husband and their two children.

Interview
What was your favorite book when you were a child?

The Giver by Lois Lowry

What's your favorite line from a book?

"Tomorrow is a new day with no mistakes in it… yet."― L.M. Montgomery, Anne of Green Gables

Who are your top three favorite authors or illustrators?

Judith Viorst, Shannon Hale, and Lois Lowry

Why did you want to become an author or illustrator?

I have always wanted to tell stories. I'm fascinated by people— why they do what they do! I worked as an actress for a long time and was always interested in the stories. It took me a while to figure out I wanted to be the one writing the stories, deciding what happened next!

Do you have any advice for future authors or illustrators?

Just write! Don't wait for the perfect moment or the perfect circumstances. Don't be precious or perfect. Just put words down on the page. Don't throw anything away. As Nora Ephron says, "Everything is Copy," and everything you write will be useful someday, even if it's not evident immediately.