Natasha Donovan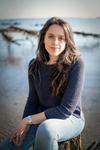 Natasha Donovan is the illustrator of the award-winning Mothers of Xsan series (written by Brett Huson). She illustrated the graphic novel Surviving the City (written by Tasha Spillett), which won a Manitoba Book Award and received an American Indian Youth Literature Award (AIYLA) honor. She also illustrated Classified: The Secret Career of Mary Golda Ross, Cherokee Aerospace Engineer which won an Orbis Pictus Honor Book and an American Indian Youth Literature Award (AIYLA). Natasha is Métis, and spent her early life in Vancouver, British Columbia. Although she moved to the United States to marry a mathematician, she prefers to keep her own calculations to the world of color and line. She lives in Washington. www.natashadonovan.com
Interview
What was your favorite book when you were a child?

A Necklace of Raindrops by Joan Aiken

What's your favorite line from a book?

" And now here is my secret, a very simple secret: It is only with the heart that one can see rightly; what is essential is invisible to the eye."—Antoine de Saint-Exupéry, The Little Prince

Who are your top three favorite authors or illustrators?

Illustrators: Sam Bosma, Jillian Tamaki, Carson Ellis Authors: Heather O'Neill, Ada Limón, Karen Russell

Why did you want to become an author or illustrator?

Stories are the thing I enjoy most about this fantastic and mysterious life!

Do you have any advice for future authors or illustrators?

Push through the moments when you feel like your work is awful—the feeling will fade, and those painful times are also when you're growing the most as a creator.