Scott Riley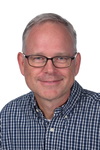 Scott Riley is a middle school English teacher who was inspired to write about Prasit Hemmin and Koh Panyee's floating soccer field after visiting the Thai island in 2018. He currently lives with his family in Singapore.
Interview
What was your favorite book when you were a child?

Where the Sidewalk Ends by Shel Silverstein; Mr. Popper's Penguins by Richard Atwater

What's your favorite line from a book?

"Unless someone like you cares a whole awful lot nothing is going to get better. It's not."— Dr. Seuss, The Lorax

Who are your top three favorite authors or illustrators?

Candace Fleming, Melissa Sweet, Steve Sheinkin

Why did you want to become an author or illustrator?

I would have never guessed that one day I'd be an author. Reading and writing weren't easy for me as a kid, but being curious was. So was learning about people and places. It was no surprise then that I signed up to be an exchange student in high school. I was hooked. Since then, I've lived in several countries, and I've met so many inspiring people. Recently, I started writing about them, and my hope is that these stories might just spark some curiosity for young readers today.

Do you have any advice for future authors or illustrators?

A few years ago, I decided to run a marathon. At first, I had no idea if I was going to make it, let alone even know how to get started. I spent weeks training for it, studying what to do, developing new routines, refining my techniques. Some days I didn't notice any progress. Others I wondered why I was even trying. But I didn't give up, and on race day, I realized something surprising—I had been running a marathon all along. Writing is a marathon, not a sprint, and the magic is in the process.