Lee Wind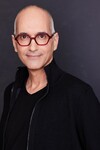 Michele Baron
Lee Wind is the founding blogger and publisher of I'm Here. I'm Queer. What The Hell Do I Read?, an award-winning website about books, culture, and empowerment for Lesbian, Gay, Bi, Trans, Questioning and Queer youth, and their Allies. He is the author of No Way, They Were Gay: Hidden Lives and Secret Loves, which won the ILA Children's and Young Adult's Book Award and was named a 2021 Chicago Public Library Best of the Best Book. Lee also works for IBPA and SCBWI. Visit him online at www.leewind.org to see and share how #QueerHistoryIsEverywhere.

Interview
What was your favorite book when you were a child?

Dune by Frank Herbert

What's your favorite line from a book?

"Are you now in feeling as well as in judgement glad that you are married as you are?" Abraham Lincoln asked that in an 1842 letter to Joshua Fry Speed. It's the question that cracked open the false facade of history for me, because that's exactly how I felt as a closeted Gay teen—I judged dating girls the right thing to do, but I didn't feel it, and I kept hoping the feeling would come… It didn't, and I finally got honest with myself and others and came out in my 20s, but reading this line from Abraham made me see myself (my Gay self) in history for the very first time.

Who are your top three favorite authors or illustrators?

An impossible question—but I recently read and loved Carry On by Rainbow Rowell, Anger is a Gift by Mark Oshiro, and Prairie Lotus by Linda Sue Park

Why did you want to become an author or illustrator?

I don't have a time machine. Let me explain… when I found out that there were guys who like-liked other guys (just like me!) in history, I wanted to travel back in time and share the news with my 11-year-old self. My 15-year-old self. Back then, I felt so alone. This information would have changed my life. But… no time machine. So I'm paying it forward, with my blog and with my books. No Way, They Were Gay? is packed with 24 true stories of men who loved men, women who loved women, people who loved without regard to gender, and people who lived outside gender boundaries. Any one of those stories would have rocked my world when I was a kid/teen. I'm so happy to be sharing them with readers of all ages now.

Do you have any advice for future authors or illustrators?

Write your book in the way only YOU can write it. That's what everyone calls "voice." Make it your take on your subject, and have your passion shine through. When I was in school, history was always presented as medicine—lists of names and dates to memorize. So I've flipped the whole idea of history upside down, letting people from history speak for themselves through primary sources in a celebration of our LGBTQ legacy. It's history as chocolate, not medicine. Empowering chocolate. That's my voice. What's yours?