Caitlin Donohue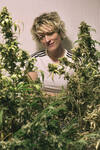 Sandra Blow
Caitlin Donohue is a San Francisco-raised, Mexico City-based bilingual culture journalist, radio producer, and drug educator. She's written about cannabis culture and politics for 12 years, and Weed is her second book for young adults.

Interview
What was your favorite book when you were a child?

Alice's Adventures in Wonderland; the Oz and Babysitter's Club series; The Phantom Tollbooth

What's your favorite line from a book?

"When the day becomes the night and the sky becomes the sea, when the clock strikes heavy and there's no time for tea; and in our darkest hour, before my final rhyme, she will come back home to Wonderland and turn back the hands of time." — Lewis Carrol, Alice's Adventures in Wonderland

Who are your top three favorite authors or illustrators?

Jia Tolentino, Brontez Purnell and Jeff Chang

Why did you want to become an author or illustrator?

It is only through writing that I make sense of the world.

Do you have any advice for future authors or illustrators?

Read and write every day. Take notes. Organize and save everything — published and not — so that your work is available to those who come after you.