Jeff Campbell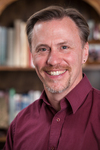 Jeff Campbell has published two previous young adult books about animals: Daisy to the Rescue (a 2015 IPPY gold medal winner), about animals saving human lives and the science of animal intelligence; and Last of the Giants (a 2016 Junior Library Guild selection), about conservation and our current extinction crisis. For twelve years, Jeff was an award-winning travel writer for Lonely Planet, and he's also a book editor and creative writing teacher. He is based in Morristown, New Jersey.

Interview
What was your favorite book when you were a child?

The Lord of the Rings by JRR Tolkien. I've read the trilogy easily fifteen times.

What's your favorite line from a book?

I'll share two: "Call me Jonah. My parents did, or nearly did. They called me John." That is how Kurt Vonnegut opens Cat's Cradle, and from there the narrator just keeps digressing and going off on tangents until he can't anymore because the world has ended.

Then, maybe the best opening line ever, from One Hundred Years of Solitude by Gabriel Garcia Marquez: "Many years later, as he faced the firing squad, Colonel Aureliano Buendia was to remember that distant afternoon when his father took him to discover ice." Doesn't that make you want to keep reading? Strangely enough, like Vonnegut, that novel also pretty much just keeps digressing until you reach the end of the world.

Who are your top three favorite authors or illustrators?

Can I do a top twenty? Okay, here are three I've been enjoying most recently: Michael Chabon, who never met a sentence he couldn't turn into its own adventure; Colson Whitehead, who writes with heartbreaking clarity; and Mary Roach, who writes the kind of quirky, funny, insightful nonfiction I can only aspire to. I highly recommend her most recent, Fuzz, about all the ways humans and animals just can't seem to get along.

Why did you want to become an author or illustrator?

I have always written. Writing was a lifeline when I was young. It helped me cope, order my thoughts, and express myself. I know I will always write in some fashion, if only for my own pleasure. Becoming an author is a different thing. I did that because I wanted to explore the world. I was editing for Lonely Planet travel guides and decided I wanted to be the one going places, gathering stories and advice. Travel writing is hard work, but it inspires you to see the world with fresh eyes. I've tried to bring that same sensibility to my writing about animals.

Do you have any advice for future authors or illustrators?

Write about what matters to you, and in whatever way that matters you. Passion and caring are everything. To me, that's what the writing process is all about: Discovering what you care about—uncovering that little seed that prompted you to write in the first place—and making that the most important thing. Do that, and readers feel it and want to keep reading. And remember, being a writer and being an author are not the same. To be the former, all you have to do is write.