Kathy Belge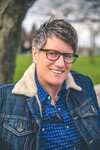 Kathy Belge has been a freelance writer since 2003 specializing in the LGBT community. She co-authored the book Lipstick and Dipstick's Essential Guide to Lesbian Relationships and wrote the monthly advice column Lipstick & Dipstick for Curve magazine for 11 years. She's worked extensively with queer youth and was the director of the Sexual Minority Youth Resource Center, Oregon's largest program for LGBT teens. Kathy lives in Portland, Oregon.

Interview
What was your favorite book when you were a child?

My Side of the Mountain

Who are your top three favorite authors or illustrators?

Cheryl Strayed, Lucy Jane Bledsoe, Brené Brown

Do you have any advice for future authors or illustrators?

Although I wanted to write at an early age, I really needed the experiences of my life to put it all in perspective.