M. G. Velasco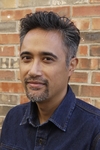 M. G. Velasco's middle grade adventure stories feature clever kids facing perilous situations in unique settings, sometimes against llamas. He earned his Bachelor of Science in Microbiology and worked at a pathology lab, which was not gross. Not gross at all. As a retired stay-at-home dad, he lives in North Texas with his wife and two kids and hoards strategy games. Cardslinger is his debut novel.

Interview
What was your favorite book when you were a child?

James and the Giant Peach

What's your favorite line from a book?

"Poor Earthworm,' the Ladybird said, whispering in James's ear. 'He loves to make everything into a disaster. He hates to be happy. He is only happy when he is gloomy.'"—James and the Giant Peach

Who are your top three favorite authors or illustrators?

Roald Dahl, Rick Riordan, Tehereh Mafi

Why did you want to become an author or illustrator?

I wanted to become an author because I fell in love with writing. It was a creative outlet and a source of pure joy. My stories were extensions of me, and every time one swirled in my head and leaked onto the page, it was amazing.

Do you have any advice for future authors or illustrators?

Create, even when you don't feel like it. And buy a good set of headphones.