Jenna Grodzicki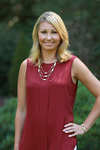 Greta Lindquist-Merlino
Jenna Grodzicki has a bachelor's in Elementary Education from Boston College and a master's in Education from the University of New England. After spending 15 years as an educator, Jenna is now a full-time writer. Learn more at www.jennagrodzicki.com.

Interview
What was your favorite book when you were a child?

Miss Nelson Is Missing and Strega Nona

What's your favorite line from a book?

"It didn't matter where you were, if you were in a room full of books you were at least halfway home."—Lev Grossman, The Magician's Land

Who are your top three favorite authors or illustrators?

Melissa Stewart, Kate Messner, Miranda Paul

Why did you want to become an author or illustrator?

Sharing books with my students was my favorite part of being a teacher. I loved seeing their reactions when we read together. I wanted to write books that would give children that same joy and sense of wonder.

Do you have any advice for future authors or illustrators?

If you have any interest in writing or illustrating for children, just go for it! Don't wait for the perfect moment to arrive because it never will. Take that leap and don't look back.