Nicole Valentine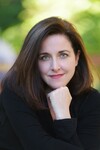 Nina Pomeroy Photography
Nicole Valentine writes books about the crossroads in our world where science and magic meet. She writes for middle grade and young adult readers and reads absolutely everything. You are as likely to find her curled up on the sofa reading a biography about Richard Feynman or Carl Sagan, as reading a book by Alice Hoffman or Kate DiCamillo.

Nicole earned her MFA in Writing for Children and Young Adults from the Vermont College of Fine Arts. In her prior timeline as a technologist, she managed web development at CNN.com and went on to launch Space.com as well as various other start-ups. She was the Chief Technology Officer of Figment.com, a website for teens interested in reading and writing young adult fiction, which was sold to Random House in 2013. Outside of fictional world-building, you can find her walking around with a hawk on her arm or wrangling two giant dogs named Merlin and Arthur. She resides outside of Philadelphia with her family.

Interview
What was your favorite book when you were a child?

Just one? Impossible! I'd have to say A Wrinkle in Time by Madeleine L'Engle.

Who are your top three favorite authors or illustrators?

Madeleine L'Engle, Roald Dahl, Dianna Wynne-Jones

Why did you want to become an author or illustrator?

The stories have always been bubbling and fizzing up inside of me. I had no other choice.

Do you have any advice for future authors or illustrators?

Read. Read absolutely everything you can get your hands on. Read books that you think aren't for you. It will make you a better writer and a better human being.