Brenda Scott Royce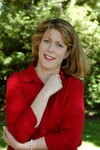 Interview
What was your favorite book when you were a child?

Karen by Marie Killilea

Who are your top three favorite authors or illustrators?

Jojo Moyes, Jennifer Weiner, Laura Zigman

Why did you want to become an author or illustrator?

I've always enjoyed making up stories and characters.

Do you have any advice for future authors or illustrators?

Live life to the fullest so that you'll have lots of experience to draw on in your writing. Travel, try new things, be daring and adventurous!