Sarah Lynn Scheerger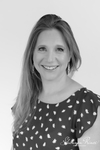 Shannon Prince Photography
Sarah Lynn Scheerger is a clinical social worker who works with "at-promise" youth, helping them figure out who they are and who they want to be. She started writing as a convenient excuse to avoid laundry, and admittedly has gotten a little carried away. She writes picture books as well as middle-grade and young adult novels. She lives in southern California with her husband and children. To learn more, check out her website at www.sarahlynnbooks.com.

Interview
What was your favorite book when you were a child?

Bridge to Terabithia by Katherine Paterson


What's your favorite line from a book?

I love many quotes from Wonder.

"I think there should be a rule that everyone in the world should get a standing ovation at least once in their lives."

"When given the choice between being right and being kind, choose kind."

"It's not enough to be friendly. You have to be a friend."


Who are your top three favorite authors or illustrators?

R.J. Palacio
Laurie Halse Anderson
Mo Willems


Why did you want to become an author or illustrator?

I love the creative process of writing. The time spent creating is my own private time, and I treasure it. I find it cathartic and relaxing (unless I'm on a deadline). Even as a child, I wrote "books" in the summers. I loved having a project to think about during the long summer days. I just enjoy being creative.


Do you have any advice for future authors or illustrators?

Read as much as you can in your genre.
Write as much as you can.
Revise.
Revise.
Revise (times a hundred.)
Repeat.
And take a deep breath.