Katey Howes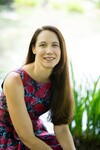 Katey Howes is thrilled to be making books for children. She also makes bad jokes, great apple crisp, and messy mistakes. Katey lives in Upper Makefield, Pennsylvania (really!) with her husband and three adventurous daughters makers. Katey is the author of picture books Magnolia Mudd and the Super Jumptastic Launcher Deluxe and Grandmother Thorn.
Interview
What was your favorite book when you were a child?

The Velveteen Rabbit (and later, Watership Down. I'm partial to bunny books).

What's your favorite line from a book?

"Sometimes I've believed as many as six impossible things before breakfast."—Lewis Carroll

Who are your top three favorite authors or illustrators?

Evan Turk, Elise Gravel, and Mary Doria Russell

Why did you want to become an author or illustrator?

I've been writing to understand—or escape—my own thoughts and feelings since I was very little, and books have always been my best friends. It only seemed natural that someday, I would create books that would be friends, reflections, and adventures for other children who felt the same way.

Do you have any advice for future authors or illustrators?

Read everything you can get your hands on, dream without restraint, and give even the messiest ideas a chance.