Katey Howes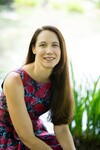 Katey Howes is thrilled to be writing books for children. She is the author of the picture books Magnolia Mudd and the Super Jumptastic Launcher Deluxe, Grandmother Thorn, and Be a Maker. Katey lives in Upper Makefield, Pennsylvania, with her husband and three adventurous daughters.

Interview
What was your favorite book when you were a child?

Katy and the Big Snow by Virginia Lee Burton

What's your favorite line from a book?

"Listen to the MUSTN'TS, child,
Listen to the DON'TS
Listen to the SHOULDN'TS
The IMPOSSIBLES, the WONT'S
Listen to the NEVER HAVES
Then listen close to me-
Anything can happen, child,
ANYTHING can be."
-Shel Silverstein"

Who are your top three favorite authors or illustrators?

Madeline L'Engle, Evan Turk, Margarita Engle

Why did you want to become an author or illustrator?

Books have always been my way to feel connected—to other people, to other places, to abstractions and emotions, hope, fear, and faith. I respect books, rely on books, escape with books. And I've always loved to play with words. I didn't really plan to become a published author, until some of the words I was playing with demanded to be shared. Now that I've seen that books I create can give children those connections, those escapes, that love of words—there's nothing else I'd rather do.

Do you have any advice for future authors or illustrators?

I recommend not only reading widely, but reading WITH children and talking with them about the books. Don't put your ideas in their heads, your words in their mouths. Just honestly listen to what they see, hear, feel and think when you share different books. It will help you find your purpose and style, and to understand your audience.