Christy Mihaly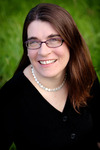 Christy Mihaly writes nonfiction books for kids, about topics including moose, redwoods, fashion, and math. She also writes articles, stories, and poetry, and blogs about children's literature. She writes in Vermont, under the supervision of her dog and cat.

Interview
What was your favorite book when you were a child?

Charlotte's Web

Who are your top three favorite authors or illustrators?

Jane Yolen, E. B White, Katherine Paterson

Why did you want to become an author or illustrator?

I love to write.

Do you have any advice for future authors or illustrators?

If you want to write, do it. Write about what interests you. Say what you want to say. Then write some more. The more you write, the better you'll get.