Margarita Engle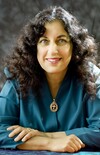 Marshall W. Johnson
Margarita Engle is the national Young People's Poet Laureate, an Astrid Lindgren Award nominee, and the Cuban-American author of verse novels, memoirs, and picture books. Awards include a Newbery Honor for The Surrender Tree, and a Charlotte Zolotow Award for Drum Dream Girl.
Interview
What was your favorite book when you were a child?

The Black Stallion

What's your favorite line from a book?

"En mi verso soy libre (In my verse I am free)."—Dulce María Loynaz

Who are your top three favorite authors or illustrators?

Pam Muñoz Ryan, Alma Flor Ada, Padma Venkatraman

Why did you want to become an author or illustrator?

I love the process of writing.

Do you have any advice for future authors or illustrators?

Write your first draft from the heart. Let it flow. Don't worry about what anyone else thinks until you reach the editing phase of the process.