Calvin Alexander Ramsey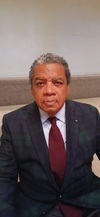 Calvin Alexander Ramsey, Atlanta-based playwright, photographer, and folk art painter, grew up in Baltimore, Maryland, and Roxboro, North Carolina. In addition to having been a year-round resident of Martha's Vineyard, Calvin has a passion for travel and has lived in New York City; Santa Monica, California; Chapel Hill, North Carolina; and the U.S. Virgin Islands of St. Croix and St. John.

He is a former Advisory Board Member of the Robert Woodruff Library Special Collections at Emory University in Atlanta. He is also a recipient of the Martin Luther King, Jr. Drum Major for Justice Award.

His plays have been performed in New York City; Washington, D.C.; Atlanta; San Francisco; Valdez, Alaska; Omaha, Nebraska; Baltimore; and Winston-Salem, North Carolina.

His plays include Bricktop, The Musical; The Green Book; Damaged Virtues; Canada Lee; Sherman Town, Baseball, Apple Pie and The Klan; Enlightenment; Sister Soldiers; Kentucky Avenue; Somewhere In My Lifetime; Johnny Mercer: A Man and His Music, a musical tribute to the author of Moon River and others; and The Age of Possibilities. His children's books are The Last Mule of Gee's Bend and Ruth and the Green Book.

He is the father of three children, all of whom are writers.

Interview
What was your favorite book when you were a child?

Call of the Wild

What's your favorite line from a book?

"All for one and one for all." —The Three Musketeers

Who are your top three favorite authors or illustrators?

Frank Yerby, James Baldwin, Alexandre Dumas

Why did you want to become an author or illustrator?

A lifelong passion to write.

Do you have any advice for future authors or illustrators?

Follow your heart.