Natalia Moore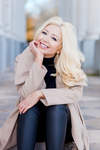 Natalia Moore's passion for drawing has always directed her career. She taught for a short time and is now a full-time illustrator. She has illustrated more than 25 books worldwide.
Interview
What was your favorite book when you were a child?

The Witches by Roald Dahl

What's your favorite line from a book?

"And Max, the king of all wild things, was lonely and wanted to be where someone loved him best of all."

Who are your top three favorite authors or illustrators?

Quentin Blake, Edward Gorey, and Raymond Briggs

Why did you want to become an author or illustrator?

I have loved picture books and creating stories since I was 5 years old. I loved the escapism of drawing.

Do you have any advice for future authors or illustrators?

Keep going for your goals. It can take months or years, but if you are determined, you will make it.