Lisa Heathfield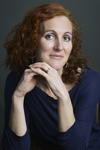 Lisa Heathfield is an award-winning author and a former high school English teacher. She lives with her family in Brighton, England.
Interview
What was your favorite book when you were a child?

The Folk of the Faraway Tree by Enid Blyton

What's your favorite line from a book?

Every line in William Faulkner's As I Lay Dying, but in particular Vardaman's line (which is actually the whole "chapter"): "My mother is a fish."

Who are your top three favorite authors or illustrators?

Agh—only three?! Um, David Almond (every book of his is amazing), Alan Warner, Markus Zusak, William Faulkner, and Enid Blyton of course—oh, that's five already…

Why did you want to become an author or illustrator?

I have always, always loved reading and writing. I think I was born with a pen in one hand and a book in the other.

Do you have any advice for future authors or illustrators?

Write only because you love it, because you need to. Getting published is not the goal—just spending time writing and loving it is the thing to aim for.