Charles Waters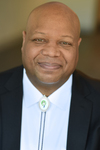 Charles Waters is a children's poet, actor, and co-author of Charlotte Huck Honor Book Can I Touch Your Hair? Poems of Race, Mistakes, and Friendship. His poems have appeared in various anthologies including One Minute Till Bedtime and The National Geographic Book of Animal Poetry. Charles performs his one-person show as well as conducts poetry performance and writing workshops for elementary and middle school audiences. He lives in Georgia.

Interview
What was your favorite book when you were a child?

I wasn't much of a reader when I was a child, however, I do remember loving the Berenstain Bears series when I was kindergarten.

What's your favorite line from a book?

"…where always it's Spring and everyone's
in love and flowers pick themselves."
—from the poem "Who Knows If The Moon's" by e.e cummings

Who are your top three favorite authors or illustrators?

That's tough to figure out. It changes daily.

I will say I'm a diversified children's poetry reading fanatic.

Why did you want to become an author or illustrator?

I remember being in junior high school, going to the local library to research a paper and seeing rows of books with the authors last names on the spine and thinking how cool that must be to have your name in a book. When I became an adult, and became a reader with a capital R I thought how fantabulous it would be to hopefully give readers the same joys I have when reading a book.

Do you have any advice for future authors or illustrators?

Read, write, read, write. Also, know that persistence and a humble attitude will get you where you need to go in life as long as you put in the work.