Tracy Nelson Maurer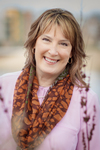 Tracy Nelson Maurer has published more than 100 titles for children and young adults, including many nonfiction books for schools and libraries. Tracy holds an MFA in Writing for Children and Young Adults from Hamline University and lives with her family near Minneapolis, Minnesota. Find her on Facebook or Twitter, or at TracyMaurerWriter.com.

Interview
What was your favorite book when you were a child?

Green Eggs and Ham

What's your favorite line from a book?

I don't have one favorite line, but this one always makes me smile:

should we tell her about it?
now, what SHOULD we do?
well…
what would YOU do
if your mother asked YOU?

(from The Cat in the Hat)

Who are your top three favorite authors or illustrators?

Oh, come on! I can name only three?! Today's list is Dr. Seuss, M. T. Anderson, and Barbara Kerley. But tomorrow…?

Why did you want to become an author or illustrator?

I love writing! And I love reading and researching and sharing what I learn. I wanted to be a bus driver when I was little, but I'm always late, so it wouldn't have worked out very well.

Do you have any advice for future authors or illustrators?

Read. Write. Revise. Repeat.