Kristina McBride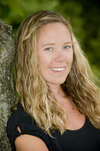 Kristina McBride has published two novels for young adults—THE TENSION OF OPPOSITES and ONE MOMENT. Kristina is a former high school English teacher and yearbook advisor, as well as an adjunct professor at Antioch University Midwest. Kristina has a thing for music, trees, purses, and chocolate. You might be surprised to learn that Kristina was almost kidnapped when she was a child. She also bookstalks people on a regular basis. Kristina lives in Ohio with her husband and two young children. Visit her online at http://www.kristinamcbride.com.
Interview
What was your favorite book when you were a child?

Bridge to Terabithia by Katherine Paterson

What's your favorite line from a book?

"It's not time to worry yet." —Atticus Finch, To Kill a Mockingbird

Who are your top three favorite authors or illustrators?

This changes on a regular basis, but today I'd have to say Gillian Flynn, Stephen King, and Jay Asher.

Why did you want to become an author or illustrator?

As a child, I loved escaping into the fictional world of the stories I found at the library across the street from my house. I cannot remember a time when I didn't want to create my own characters and stories so I could offer others the kind of magic that those authors provided for me.

Do you have any advice for future authors or illustrators?

Write. Write. And write some more. And don't forget to read. Reading is one of the best ways to learn what works and what doesn't when it comes to craft. Finally, know that a first draft is supposed to be messy, that the main point of the first draft is to simply get the ideas down on the page so you have something to go in and fix, something to polish until it shines.