Jeff Weigel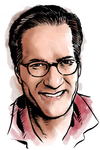 Jeff Weigel is an illustrator, author, and designer of children's books and graphic novels who lives in Illinois. Visit Jeff online at www. jeffweigel.com.

Interview
What was your favorite book when you were a child?

Comics! I loved Batman, Superman, The Fantastic Four and all the other Silver Age classics.

What's your favorite line from a book?

"He looked about as inconspicuous as a tarantula on a slice of angel food."—Raymond Chandler in Farewell, My Lovely

Who are your top three favorite authors or illustrators?

Authors: Raymond Chandler, John Steinbeck, William Steig

Illustrators: Harold R. Foster, Alex Raymond, Joe Kubert

Why did you want to become an author or illustrator?

To tell kids a story they'd remember the rest of their lives.

Do you have any advice for future authors or illustrators?

Read, then practice, practice, and practice. Then read more. Repeat.