Robin Yardi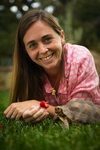 Robin Yardi is a children's book author and a California credentialed teacher. She lives in the hills of Santa Barbara with too many pets and just the right number of children.

Interview
What was your favorite book when you were a child?

A Wrinkle in Time

What's your favorite line from a book?

Don't have one! One of the greatest things about my brain is that it doesn't remember specifics, so I can reread a wonderful book and it feels both familiar and new, like seeing an old friend at a surprise party.

Who are your top three favorite authors or illustrators?

This is like asking me what my favorite animal is. Why would you only pick one or two or three? I love: Julie Flett, Carson Ellis, Christian Robinson, Patricia McKissack, Kate Messner, Brendan Wenzel, Meg Meina, Nikki Grimes, Sara Gillingham, Felicita Sala, Yuyi Morales, Peter Sis, Sara Pennypacker, Beverly Cleary, Jacqueline Ogburn, Joyce Sidman, Raul the Third, Daniel Pinkwater, Claire Fayers, Beth Krommes . . . okay, there are more, but you get the idea.

Why did you want to become an author or illustrator?

I remember the way books made me feel as a kid and why I needed them so much very vividly. I like the idea of giving those feelings to another person. Whether my book brings a feeling of friendship or adventure or escape or understanding or safety, I hope it comes to a reader at the moment they need it most.

Do you have any advice for future authors or illustrators?

Writing books is like a slow motion snail rodeo, so you may as well slow down and enjoy the ride.