Belinda Jensen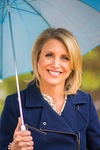 Belinda Jensen is chief meteorologist for the NBC station in Minneapolis and St. Paul, Minnesota. After earning her degree in meteorology, she worked for the National Weather Service. She has also been visiting classrooms and educating children about the weather for more than twenty-five years. As a child, she was fascinated by science. Today, she is passionate about inspiring children with the wonders of weather.

Interview
What was your favorite book when you were a child?

Charlotte's Web

What's your favorite line from a book?

Charlotte: "No, my webs were no miracle, Wilbur. I was only describing what I saw. The miracle is you. "

Wilbur: "Why did you do this all for me?" He asked. I don't deserve it. I've never done anything for you."

"You have been my friend," replied Charlotte. "That in itself is a tremendous thing."

Who are your top three favorite authors or illustrators?

I have to be honest – I wasn't a huge reader as a kid. I was a true tomboy, outside all the time exploring along the St. Croix River in a small town in Wisconsin. I became an earth scientist because I was a kid who was always checking out the atmosphere. I will say I was moved by Where the Red Fern Grows by Wilson Rawls. I also like Mercer Mayer – his messages and whimsical characters.

Why did you want to become an author or illustrator?

After speaking to countless young people about the weather over the last 25 years, I am drawn to their excitement, never-ending curiosity, and their anxiety surrounding the weather they experience. I love talking to them, explaining how the science works, and fielding a constant stream of questions and concerns. Weather isn't so scary if you understand it. I truly believe that. This premise and my passion for talking to kids about weather is what drove me to write a series of books addressing just that. My hope is that these books will fuel even more interest in weather while simultaneously soothing the fears of children.

Do you have any advice for future authors or illustrators?

Keep it simple, smart and unique to you. Our creativity in how we tell the story is the most important skill that allows us to connect with readers. And remember – our readers are the real customers. Write to and for them. They are the ones that matter. If they like what we do, that's what is ultimately most rewarding.