C. M. Surrisi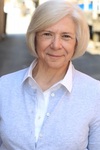 C. M. Surrisi is a graduate of the Vermont College of Fine Arts MFA program in Writing for Children and Young Adults. She lives in Asheville, North Carolina. The Maypop Kidnapping is her first novel.

Interview
What was your favorite book when you were a child?

Anne of Green Gables by L. M. Montgomery

What's your favorite line from a book?

"We moved on the Tuesday before Labor Day. I knew what the weather was like the second I got up. I knew because I caught my mother sniffing under her arms." Are You There God? It's Me, Margaret by Judy Blume.

Who are your top three favorite authors or illustrators?

I have many favorites. Here are some: M. T. Anderson, Tim Wynne-Jones, Katherine Paterson, Joan Bauer, Kate DiCammilo, Rita Williams-Garcia, Jane Austen, Louise Penny . . . I could go on and on.

Why did you want to become an author or illustrator?

I can't remember I time when I didn't read and immediately want to write. Something about being carried away into the story drove me to try and create the same experience for myself and for others.

Do you have any advice for future authors or illustrators?

Read widely. For me, reading is the springboard to writing. Also, think about what you have read from a craft standpoint, and try to pin point what you liked or didn't like about it, and why. Other writers' works are excellent teachers. Of course, an MFA in Writing for Children and Young Adults is also a pretty terrific way to learn.