Kevin Brooks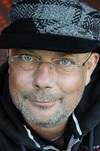 Kevin Brooks grew up in Exeter, England. He studied Psychology and Philosophy at Birmingham Aston University and Cultural Studies in London. Brooks inhabited a variety of jobs before becoming a full-time writer including: musician, gasoline station attendant, crematorium handyman, and hot dog vendor. His first published work, Martyn Pig, won the Branford Boase Award and was shortlisted for the Carnegie Medal. He now lives in North Yorkshire, England, with his wife, four dogs, six sheep, eight chickens, and two rabbits.
Interview
What was your favorite book when you were a child?

Any of the Peanuts books by Charles M. Schulz

What's your favorite line from a book?

"He let people do or think what they wanted while he smoked a cigarette and thought it out calmly, without his feelings getting mixed up in it…. he did what he felt had to be done. Even if it meant dying." —Hombre, by Elmore Leonard.


Who are your top three favorite authors or illustrators?

John Steinbeck, James Lee Burke, and Cormac McCarthy

Why did you want to become an author or illustrator?

I had to.

Do you have any advice for future authors or illustrators?

Read, write, read, write, read, write, read, write…but also find time to live a life. Books are about life, so you need to live one.