Stephanie Perry Moore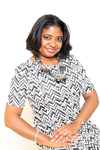 Stephanie Perry Moore was born in South Carolina and now lives with her family in Georgia. She is the author of many YA series, including the Lockwood Lions, the Grovehill Giants, and the Payton Skky series.

Interview
What was your favorite book when you were a child?

I did not see any books in which I could identity when I was younger, thus I started writing YA to change that unfortunate fact.

Who are your top three favorite authors or illustrators?

Alex Haley and Maya Angelou are two writers whose work I admire.

Why did you want to become an author or illustrator?

I wanted to write about characters that were not well represented in print.

Do you have any advice for future authors or illustrators?

Write what's in your heart. Also, be committed to your project until it gets done.