Donna M. Jackson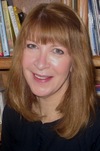 Charlie Jackson
Donna M. Jackson is an award-winning author of nonfiction books for young readers. Her works include the critically acclaimed Elephant Scientist, named a 2012 Robert F. Sibert Informational Honor Book, a 2012 Boston Globe-Horn Book nonfiction honor book, and an NSTA/CBC Outstanding Science Trade book; Extreme Scientists, selected as a Smithsonian Notable Book for Children, 2009; and ER Vets, an Orbis Pictus and ASPCA Henry Bergh honor book. Donna's interest in the mind-body connection began when she first studied psychology in college. Later, while writing a book called In Your Face, she became fascinated with facial expressions and the many messages we communicate through body language—both to ourselves and others. Donna holds a master's degree in journalism from the University of Colorado at Boulder. She lives near the Rocky Mountains with her husband, Charlie, their family, and their two dogs, Shadow and Sydney.
Interview
What was your favorite book when you were a child?

Early on I loved The Story of Ferdinand by Munro Leaf, Make Way for Ducklings by Robert McCloskey, and The Little House by Virginia Lee Burton. In middle school, it was Animal Farm by George Orwell.

What's your favorite line from a book?

Too many to pick a favorite, but here's a fun one I like:
"You have brains in your head. You have feet in your shoes. You can steer yourself any direction you choose." –from Oh, the Places You'll Go! by Dr. Seuss

Who are your top three favorite authors or illustrators?

Lois Lowry, for her thoughtful fiction; Leo Lionni, for his elegant picture books; and Russell Freedman, for his masterful nonfiction.

Why did you want to become an author or illustrator?

Growing up, I always wanted to know the who, what, where, when, why and how of things. In elementary school, I enjoyed reading mystery and science books, and as I grew older my curiosity and love of words heightened. To weave the two together, I joined my junior high and high school newspaper staffs. There I found wonderful excuses to talk to people and share their stories with others. I'll never forget the wave of satisfaction that washed over me when a teacher complimented one of my more creative pieces.
That feeling returned years later when I wrote a feature article for the Boston Globe about the life of a deaf man who was misdiagnosed as mentally ill. The response was so positive, I forgot all about my plans to be a child psychologist. Soon after, I began graduate studies in journalism at the University of Colorado, Boulder. Eventually, I accepted a features writing and editing position at a local newspaper. It was during this time that I met the subject of my first book—the bone detective—and I've been writing books ever since.

Do you have any advice for future authors or illustrators?

Never give up! Keep growing and exploring—both your inner and outer worlds. Then write and rewrite—and rewrite and rewrite and rewrite. It all comes together when you care enough about your work to keep at it.