Ellen Harasimowicz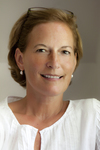 ©Ellen Harasimowicz
Ellen Harasimowicz is a freelance photographer in the Boston area. She has collaborated with Loree Griffin Burns on two other children's books—The Hive Detectives: Chronicle of a Honey Bee Catastrophe and Citizen Scientists: Be a Part of Scientific Discovery from Your Own Backyard—both of which received the Science Books & Films Prize for Excellence in Science Books. For the past several years, Ellen has raised butterflies at her home in Massachusetts, photographing their life cycles and sharing the caterpillars and pupae with young children. Visit her online at www.ellenharasimowicz.com.
Interview
What was your favorite book when you were a child?

When I was child my favorite book was The Five Chinese Brothers by Claire Huchet Bishop and Kurt Wiese, primarily because of the double spread showing the brother who could "stretch and stretch and stretch his legs." I loved that I had to turn the book sideways to read it.

What's your favorite line from a book?

My favorite line from a children's book is, "Skit skat skoodle doot. Flip flop flee." From Chicka Chicka Boom Boom by Bill Martin, Jr. and John Archambault, illustrated by Lois Ehlert.

Who are your top three favorite authors or illustrators?

Don & Audrey Wood, Eric Carle, and Chris Van Allsburg

Why did you want to become an author or illustrator?

When my three sons were young, I was a graphic designer in Harvard Square. Most days I spent my lunch break perusing the children's department of the many bookstores, often buying a new book instead of buying lunch. I couldn't wait to get home and see their faces light up as we set off on another adventure between the covers of a book.