Loree Griffin Burns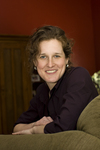 Loree Griffin Burns is the author of Tracking Trash: Flotsam, Jetsam and the Science of Ocean Motion—an ALA Notable Book for Children, a Boston Globe-Horn Book Honor Book, and winner of an IRA Children's Book Award. She was shocked to learn that butterflies at the live exhibit near her home in Massachusetts had come from Central America. She and photographer Ellen Harasimowicz spent two unforgettable weeks researching the full story at El Bosque Nuevo, a butterfly farm in Costa Rica. The pair have collaborated on two other award-winning books for children. Visit Loree online at www.loreeburns.com.
Interview
What was your favorite book when you were a child?

I had a lot of favorites, but Edward Eager's Half Magic was one of my most favorites.

What's your favorite line from a book?

This line from Sy Montgomery and Nic Bishop's Saving the Ghost of the Mountain has stayed with me for a long time: "Protecting an animal is like loving someone. It's not something you do and then finish. It's a long-term promise, honored over and over, one step at a time."

Who are your top three favorite authors or illustrators?

I could be the president of the Sy Montgomery Fan Club, and I have vowed to read every single book that Phillip Hoose writes. Also, I think Steve Sheinkin is a genius.

Why did you want to become an author or illustrator?

So that I could share some of the stories that excite me about our world, how it works, and how we figure that out.

Do you have any advice for future authors or illustrators?

Read a lot. Write a lot. And whenever possible, write about things that thrill you.