Heather E. Schwartz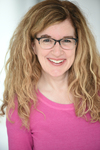 When Heather E. Schwartz was thirteen years old, she tracked down several lead orphans from the 1983 movie "Annie" and interviewed them by phone. As an adult, she realized she could apply those same early instincts to a career as a journalist and writer. She is the author of more than 35 nonfiction children's titles, published by Lerner Publishing Group, Capstone Press, Teacher Created Materials, Lucent Books, and Tangerine Press, a Scholastic imprint. She has written articles for National Geographic Kids and Discovery Girls. In addition, she developed the content for KidsGetArthritisToo.org, the juvenile section of the Arthritis Foundation's website. Other credits in the children's market include articles for Teen, Girls' Life, and All About You magazines. Additionally, Ms. Schwartz is a former editor at Bridal Guide magazine, co-author of Bridal Guide Magazine's How to Choose the Perfect Wedding Gown (Warner, 2004), and contributor to The Takeout Cookbook (Knock Knock 2007).
Interview
What was your favorite book when you were a child?

A Tree Grows in Brooklyn, by Betty Smith

Who are your top three favorite authors or illustrators?

Betty Smith, Beverly Cleary, and Judy Blume

Why did you want to become an author or illustrator?

I've always loved reading, researching, and writing. As a writer and author, I can combine those passions.

Do you have any advice for future authors or illustrators?

If you want to become an author, get as much practice writing as you can. Write about things that interest you and things that don't. Write even if you don't finish a piece, and even if what you start isn't any good. Try every kind of writing: journaling, letters, fiction, nonfiction, poetry, anything you want. All writing practice will make you a better writer and will help you determine which kind of writing you enjoy the most and want to pursue.