Jim Paillot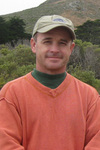 Jim Paillot is a dad, husband, and illustrator. He lives in Arizona with his family and two dogs and any other animal that wants to come in out of the hot sun.

Interview
What was your favorite book when you were a child?

Tarzan of the Apes by Edgar Rice Burroughs

Who are your top three favorite authors or illustrators?

My 3 favorite illustrators are NC Wyeth, Howard Pyle, and Frederick Remington.

Why did you want to become an author or illustrator?

I have always loved drawing and creating artwork, so it is a thrill to do that all day AND get paid to do it!

Do you have any advice for future authors or illustrators?

Keep practicing. Keep exploring and don't give up. I was hardly ever the best artist in my classes in school but through persistence I was able to realize my dream of being a full-time illustrator.