Oliver Dominguez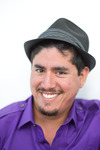 ©Curtis Smith Photography
Oliver Dominguez was born and raised in Miami. He has illustrated multiple pictures books, including Miracle Mud (2013). He lives in Florida with his wife, two dogs, and a collection of unique hats. Visit him online at cargocollective.com/oliverdominguez.
Interview
What was your favorite book when you were a child?

Curious George

What's your favorite line from a book?

It was a letter from J.C Leyendecker, a book that Leyendecker wrote to Rockwell, quote "I guess if I had to live it all over again, I might have done it differently… but maybe I couldn't have…"

Who are your top three favorite authors or illustrators?

J.C Leyendecker, N.C Wyeth, Norman Rockwell

Why did you want to become an author or illustrator?

Art was always a passion of mine since I was a kid. I used to draw from comics and ninja turtle's cartoons. Art was in my blood. My dad is a jeweler designer, and that's were my first inspiration came from. I wanted to become an illustrator because I think I had something to show and express from my art to others in the world. I wanted to see my work give joy and feelings to others.

Do you have any advice for future authors or illustrators?

Draw all the time. Keep a sketchbook. Enter contest like Spectrum, Society of Illustrator's of New York and LA, and other contest around the world. Have the passion to illustrate and work with clients or for your self. Get your name out there, start with a blog. Be motivated, read a lot, and always be a friendly person; you never know who knows whom.