John Coy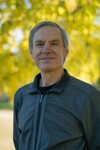 John Coy is the author of young adult novels, the 4 for 4 middle-grade series, and nonfiction and fiction picture books including Hoop Genius, Game Changer, Their Great Gift, Dads, and If We Were Gone. He has received numerous awards for his work including a Marion Vannett Ridgway Award, a Charlotte Zolotow Honor, a Bank Street College Best Book of the Year, and the Burr/Warzalla Award for Distinguished Achievement in Children's Literature. John lives by the Mississippi River in Minneapolis.

Interview
What was your favorite book when you were a child?

The Day Daddy Stayed Home

What's your favorite line from a book?

Go, Dog. Go!

Who are your top three favorite authors or illustrators?

That's way too difficult. It's like asking for my favorite breath of air.

Why did you want to become an author or illustrator?

I wanted to write the types of books I would have liked to read.

Do you have any advice for future authors or illustrators?

Three things: read, read, read.